Used Refurbished IBM x3550 M4 7914-D2U 2.3GHz 6C E5-2630 Intel Xeon Processor (69Y5676)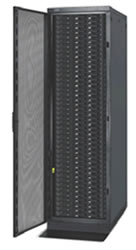 Essential Technologies is your essential source for new, used, refurbished, and recertified IBM System x3550 M4 7914-D2U hardware. Whether it's a complete system, upgrades, memory, processors, components, or parts, you can count on Essential to provide quality equipment that meets your IT objectives - and exceeds your expectations - every time.
All products are 100% original, tested, and guaranteed for your on-site maintenance agreements. Whether you have a specific system in mind, or if you need alternatives, we have the solution that's right for you.
We will also buy back your new or pre-owned IT equipment.
Refurbished IBM System x3550 M4 7914-D2U 2.3GHz 6C Intel Xeon Processor
The x3550 M4 is a 1U rack-optimized server with 2 processor sockets for Intel Xeon E5-2600 and E5-2600 V2 processors
IBM Model 7914-D2U is configured with 1x 2.3GHz 6-Core E5-2630 Processor, 8GB Memory, and 2.5" HDD capacity with up to 8 bays
Processor part number: 69Y5676 (Replacement part number: 81Y5165)
Includes 24x DIMM slots, and is expandable up to 384GB of DDR3 SDRAM memory, or 768GB with LRDIMMs
The x3550 M4 supports up to eight 2.5-inch SAS/SATA HDDs or SSDs, or up to three hot-swap SAS/SATA 3.5-inch HDDs
Includes one PCIe 3.0 x16 slot, plus one PCIe x8/x16 or optional PCIX slot
Integrated Quad Gigabit Ethernet ports, and optional (2) embedded 10 GbE ports
Our refurbished IBM x3550 M4 7914-D2U servers are tested, refurbished, and guaranteed for IBM maintenance
7914-D2X, 7914-D2G, 7914-AC1, 7914-MC1