Refurb Process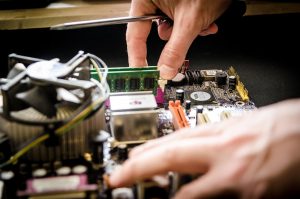 More and more Fortune 500 companies - as well as companies of all sizes - are taking advantage of the cost savings that refurbished equipment can provide, and including it in their strategic IT plan. They're not only using it for their test environments and legacy systems, but also for large production ERP and database applications, disaster recovery, and special short-term projects.
Essential Technologies is one of the most highly-regarded companies in the refurbished and pre-owned technology industry, and we employ a rigorous refurbishment process that ensures all equipment is configured to the proper specifications.  Our 20+ years of experience in the market will ensure a smooth purchasing process when it comes to all the important details.
All products that come through our facility are tested and audited immediately, prior to being processed into inventory. If we are purchasing equipment from you, we will pay you immediately after this step.
Every component is broken down, serialized, placed in an anti-static bag, and checked into our warehouse.
Once a product is ordered, it is then pulled from the warehouse into our tech center, and re-tested and/or re-configured in accordance with OEM and our customers' specifications, and updated with the latest firmware and microcode.
In the case of a server, the unit is run through full diagnostics, and "burned in" overnight. Software is also loaded at this time, if specified.
For IBM enterprise-class servers and storage products, our local CE is dispatched to provide an MSQ (Maintenance Service Qualification) recertification procedure that will ensure the product meets IBM specifications, and pre-qualify it for IBM on-site maintenance. For Cisco-authorized/excess inventory, and HP Renew, products are already recertified prior to arriving at our warehouse.
The process of transferring the system serial number to your IBM customer number, or otherwise updating IBM records is initiated, and an IBM on-site installation is scheduled by us if requested. Maintenance contracts and are also coordinated at this time, either through our OEM partners IBM or Cisco, or through our 3rd party support channel.
The products arrive in excellent cosmetic and working condition, and are guaranteed for your existing on-site maintenance agreement, a new OEM maintenance agreement, a 3rd-party maintenance agreement, or an extended warranty through Essential Technologies.