Used Refurbished IBM HS22 Blade Server 7870-H2U 2.66GHz Intel X5650 6C Processor (59Y5709)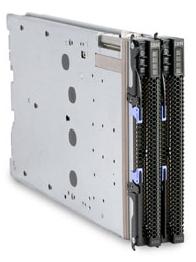 Essential Technologies is your essential source for new and refurbished IBM 7870-H2U HS22 BladeCenter and Blade Server hardware. Whether it's a complete system, upgrades, components, or parts, you can count on Essential to provide quality equipment that meets your IT objectives - and exceeds your expectations - every time.
All products are 100% original, tested, and guaranteed for your on-site maintenance agreements. Whether you have a specific system in mind, or if you need alternatives, we have the solution that's right for you.
We will also buy back your new or pre-owned IT equipment.
Refurbished IBM 7870-H2U HS22 Blade Server 2.66GHz Six-Core Intel Xeon Processor
The HS22 is a high-performance Blade Server with 2 processor sockets for Multi-core Intel Xeon processors
Processor type: 2.66GHz Six-Core Intel Xeon X5650 59Y5709
Supports up to 96GB of DDR3 memory (3x2GB Memory Base)
Includes 12 DDR3 DIMM slots for 1GB, 2GB, 4GB, or 8GB modules
Includes Broadcom 5709S dual Gigabit Ethernet connections with failover support
Support for additional Ethernet, SAS, Fibre Channel, and Infiniband expansion cards
Total of eight I/O ports per blade
Support for up to two hot-swap SFF SAS, SATA or solid state drives with RAID 0 and 1 standard
Support for optional RAID controller with battery-backed write-back cache
The BladeCenter HS22 is supported in the H chassis (8852), S chassis (8886), and E chassis (8677)
Our refurbished IBM HS22 7870-H2U systems are tested, refurbished, and guaranteed for IBM maintenance