Used Refurbished IBM 9119-595 p5-595 POWER5 & POWER5+ Server p595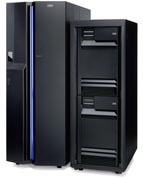 Essential Technologies is your essential source for recertified, used, and refurbished IBM 9119-599 Power5 and Power5+ p5 595 Power Sysetms Server hardware.  Whether it's a complete system, upgrades, parts, or components you can count on Essential Technologies to provide quality equipment that meets your IT objectives - and exceeds your expectations - every time.
All products are 100% IBM original, tested, and eligible for IBM on-site maintenance (or a 3rd-party support contract).  Whether you have a specific system in mind, or if you need alternatives, we have the solution that's right for you.
We will also buy back your new or pre-owned IT equipment.
Refurbished IBM 9119-595 P5 595 POWER5 and POWER5+ Server
The 9119-595 P5 595 is an enterprise-class server offering 16-, 32-, 48-, or 64-core configurations (POWER5 1.65GHz, and POWER5+ 1.9GHz)
Up to 2TB of DDR1 or DDR2 memory
Supports up to 12 I/O drawers, each I/O drawer containing 20 PCI-X slots and up to 16 disk bays
Support for LPAR and PowerVM virtual partitioning
Support for AIX and Linux Operating Systems
Our refurbished IBM 9119-595 Systems are tested, configured, and guaranteed for IBM maintenance

Memory
7828 16GB DDR1 Memory Card
7829 32GB DDR1 Memory Card