Used Refurbished IBM 8203-E4A Power Systems p6 520 POWER6 Server Model E4A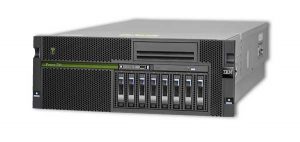 Essential Technologies is your essential source for recertified, used, and refurbished IBM 8203-E4A Power6 P6-520 Power Systems Server hardware. Whether it's a complete system, upgrades, parts, or components you can count on Essential Technologies to provide quality equipment that meets your IT objectives - and exceeds your expectations - every time.
All products are 100% IBM original, tested, and eligible for IBM on-site maintenance (or a 3rd-party support contract). Whether you have a specific system in mind, or if you need alternatives, we have the solution that's right for you.
We will also buy back your new or pre-owned IT equipment.
Refurbished IBM 8203-E4A Power Systems P6 520 POWER6 Server Model E4A
The 8203-E4A 520 is a 4U POWER6 server with 64-bit scalability, offering 1-, 2-, and 4-core configurations (4.2GHz or 4.7GHz)
Up to 64GB of PC2-5300 memory
Provides 6x 3.5-inch SAS disk bays or 8 2.5-inch SAS disk bays
Integrated 10/100/1000 dual-port Virtual Ethernet with optional 10/100/1000 quad-port or dual-port 10 Gb Virtual Ethernet
Includes 5 PCIX/PCIe I/O slots; 2 GX+ slots
Support for LPAR and PowerVM virtual partitioning
Support for AIX and Linux Operating Systems
Our refurbished IBM 8203-E4A Systems are tested, configured, and guaranteed for IBM maintenance

Memory
4520 (77P6497) 1GB (2x512MB) RDIMMs, 667MHz DRAM
4521 (77P6498) 2GB (2x1GB) RDIMMs, 667MHz DRAM
4522 (77P6499) 4GB (2x2GB) RDIMMs, 667MHz DRAM
4532 (77P8030) 4GB (2x2GB) RDIMMs, 667MHz DRAM
4523 (77P6500) 8GB (2x4GB) RDIMMs, 667MHz DRAM
4524 (77P7504) 16GB (2x8GB) RDIMMs, 667MHz DRAM