Used Refurbished IBM 2864-A20 N5200 NAS NSeries System Storage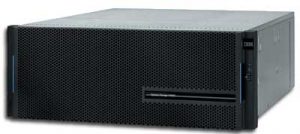 Essential Technologies is your essential source for new, used, refurbished, and recertified IBM NSeries N5200 2864-A20 hardware. Whether it's a complete system, upgrades, drives, components, or parts, you can count on Essential to provide quality equipment that meets your IT objectives - and exceeds your expectations - every time.
All products are 100% original, tested, and guaranteed for your IBM on-site, or 3rd party maintenance agreements. Whether you have a specific system in mind, or if you need alternatives, we have the solution that's right for you.
We will also buy back your new or pre-owned IT equipment.
Refurbished IBM 2864-A20 System Storage N5200 Controller

Dual node storage controller with NFS, CIFS, FCP and iSCSI support via optional features
Supports a maximum of 12 EXN1000s, EXN2000s, or EXN4000 expansion units
Configurations up to 252TB (168 total drives)
Our refurbished 2864-A20 N5200 units are tested, configured, and guaranteed for IBM maintenance