Used Refurbished EMC V3-2S10-300 300GB 2.5" 10K RPM 6GB SAS Disk Drive Module VNX5100 VNX5300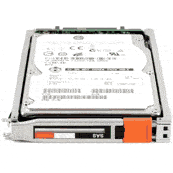 Essential Technologies is your essential source for new, used, refurbished, and recertified EMC V3-2S10-300 disk drive upgrades. Whether it's a complete system, upgrades, drives, components, or parts, you can count on Essential to provide quality equipment that meets your IT objectives - and exceeds your expectations - every time.
All products are 100% original, tested, and eligible for a 3rd-party support contract, self-maintenance plan, or Essential's parts replacement warranty. Whether you have a specific system in mind, or if you need alternatives, we have the solution that's right for you.
We will also buy back your new or pre-owned IT equipment.
Refurbished EMC V3-2S10-300 300GB 2.5" 10K 6GB/s SAS Disk Drive Module
This feature provides one 2.5" 6GB/s SAS 300GB 10K Disk Drive Module upgrade or replacement for VNX 5100 and VNX 5300 systems
Compatible systems: VNX5100, VNX5300, V2-DAE-R-25-A, V2-DAE-N-25-A
Our refurbished V3-2S10-300 drives are tested, certified, and include 1-yr warranty
EMC Model Number: V3-2S10-300, V3-2S10-300U, N3-2S10-300
Part Numbers
005048946
005049292
005049197
005049821
005050277
005050279