Used Refurbished Cisco Nexus 2232TM (N2K-C2232TM-10GE) Series 10GBASE-T Fabric Extender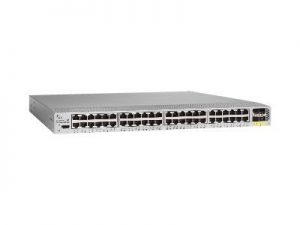 Essential Technologies is your essential source for new, used, refurbished, and recertified Cisco Nexus 2232TM N2K-C2232TM-10GE Fabric Extenders. Whether it's a complete switch, upgrades, components, or parts, you can count on Essential to provide quality equipment that meets your IT objectives - and exceeds your expectations - every time.
All products are 100% original, tested, and eligible for SmartNet, or a 3rd-party support contract. Whether you have a specific system in mind, or if you need alternatives, we have the solution that's right for you.
We will also buy back your new or pre-owned IT equipment.
Refurbished Cisco Nexus 2232TM (N2K-C2232TM-10GE) 10GBASE-T Fabric Extender
The Cisco 2232TM provides a highly scalable unified server-access platform, acting as extensions of the parent Cisco Nexus switch fabric, together forming a distributed modular system
Provides the flexibility and benefits of both top-of-rack (ToR) and end-of-row (EoR) deployments
Includes 32x 1/10GBase-T + 8x 10GE Module (req SFP+) ports
Offers redundant hot-swappable power supplies and a hot-swappable fan tray with redundant fans
Standard Airflow/port side exhaust
Compact 1RU Form Factor
Cisco Part Number: N2K-C2232TM-10GE
Support-eligible serial numbers, which are available upon request
Our refurbished Cisco Nexus 2000 N2K-C2232TM-10GE Fabric Extenders are Cisco original, tested, complete, and fully configured