Used Refurbished Cisco N9K-X9464PX 48-Port 1/10 Gigabit Ethernet Access-Layer and 10/40 Gigabit Ethernet Aggregation-Layer Line Card for Nexus 9500 Switches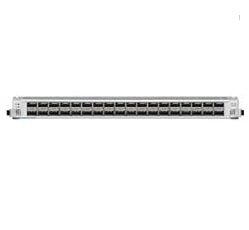 Essential Technologies is your essential source for new, used, refurbished, and recertified Cisco Nexus N9K-X9564PX line cards. Whether it's a complete switch, upgrades, components, or parts, you can count on Essential to provide quality equipment that meets your IT objectives - and exceeds your expectations - every time.
All products are 100% original, tested, and eligible for SmartNet, or a 3rd-party support contract. Whether you have a specific system in mind, or if you need alternatives, we have the solution that's right for you.
We will also buy back your new or pre-owned IT equipment.
Refurbished Cisco N9K-X9564PX Nexus 48-Port Ethernet Line Card for 9500 Switches
The Cisco Nexus N9K-X9564PX is a 48-port 1 and 10 Gigabit Ethernet SFP+ with 4-port 40 Gigabit Ethernet QSFP+ line card
12-MB buffer
Designed for 10 and 40 Gigabit Ethernet access and aggregation switches
Requires (4) fabric modules for maximum bandwidth
Line rate for packets greater than 200 bytes
Supported in 4-, 8-, and 16-slot chassis
Our refurbished Cisco N9K-X9564PX line cards  are Cisco original, tested, complete, and fully configured
Compatible Systems
N9K-C9504-FM, N9K-C9508-FM, N9K-C9516-FM

40-Gigabit QSFP+ Ethernet Transceiver Modules
QSFP-40G-SR4= 40GBASE-SR4 QSFP+ transceiver module for MMF, 4-lanes, 850-nm wavelength, 12-fiber MPO/MTP connector
QSFP-40G-CSR4= 40GBASE-CSR4 QSFP+ transceiver module for MMF, 4-lanes, 850-nm wavelength, 12-fiber MPO/MTP connector, 300 m reach with OM3 fiber
QSFP-40G-SR4-S= 40GBASE-SR4 (IEEE 802.3ba Spec.) QSFP+ transceiver module for MMF, 4-lanes, 850-nm wavelength, 12-fiber MPO/MTP connector
FET-40G= 40G Fabric Extender Transceiver in QSFP form factor, 4-lanes, 850-nm wavelength, 12-fiber MPO/MTP connector, 100m reach with OM3 fiber
QSFP-40G-SR-BD= 40G QSFP Bi-Directional transceiver module, Duplex Multi-mode Fiber, LC Duplex connector, 100m reach with OM3 fiber
QSFP-40G-LR4-S= 40GBASE-LR4 QSFP40G transceiver module for Single Mode Fiber, 4 CWDM lanes in 1310nm window Muxed inside module, Duplex LC connector, 10km, 40G Ethernet rate only
QSFP-40GE-LR4= 40GBASE-LR4 QSFP+ 1310nm 10km LC DOM Transceiver
QSFP-40G-LR4= 40GBASE-LR4 QSFP40G transceiver module for Single Mode Fiber, 4 CWDM lanes in 1310nm window Muxed inside module, Duplex LC connector, 10km, Multi-rate Support (40G Ethernet and OTU3)
QSFP-40G-ER4= 40GBASE-LR4 QSFP40G transceiver module for Single Mode Fiber, 4 CWDM lanes in 1310nm window Muxed inside module, Duplex LC connector, 40km, Multi-rate Support (40G Ethernet and OTU3)
WSP-Q40GLR4L= 40GBASE-LR4 QSFP40G transceiver module for Single Mode Fiber, 4 CWDM lanes in 1310nm window Muxed inside module, Duplex LC connector, 2km, 40G Ethernet rate only
QSFP-4SFP10G-CU5M= 40GBASE-CR4 QSFP+ to four 10GBASE-CU SFP+ direct attach breakout cable assembly, 5 meter passive
QSFP-4SFP10G-CU3M= 40GBASE-CR4 QSFP+ to four 10GBASE-CU SFP+ direct attach breakout cable assembly, 3 meter passive
QSFP-4SFP10G-CU1M= 40GBASE-CR4 QSFP+ to four 10GBASE-CU SFP+ direct attach breakout cable assembly, 1 meter passive
QSFP-4x10G-AC7M= 40GBASE-CR4 QSFP+ to four 10GBASE-CU SFP+ direct attach breakout cable assembly, 7 meter active
QSFP-4x10G-AC10M= 40GBASE-CR4 QSFP+ to four 10GBASE-CU SFP+ direct attach breakout cable assembly, 10 meter active
QSFP-H40G-CU5M= 40GBASE-CR4 QSFP+ direct-attach copper cable, 5 meter passive
QSFP-H40G-CU3M= 40GBASE-CR4 QSFP+ direct-attach copper cable, 3 meter passive
QSFP-H40G-CU1M= 40GBASE-CR4 QSFP+ direct-attach copper cable, 1 meter passive
QSFP-H40G-ACU7M= 40GBASE-CR4 QSFP+ direct-attach copper cable, 7 meter active
QSFP-H40G-ACU8M= 40GBASE-CR4 QSFP+ direct-attach copper cable, 8 meter active
QSFP-H40G-ACU9M= 40GBASE-CR4 QSFP+ direct-attach copper cable, 9 meter active
QSFP-H40G-ACU10M= 40GBASE-CR4 QSFP+ direct-attach copper cable, 10 meter active
QSFP-4X10G-AOC1M= 40GQSFP to four 10G SFP+ direct attach breakout Active Optical cable assembly, 1 meter
QSFP-4X10G-AOC2M= 40GQSFP to four 10G SFP+ direct attach breakout Active Optical cable assembly, 2 meter
QSFP-4X10G-AOC3M= 40GQSFP to four 10G SFP+ direct attach breakout Active Optical cable assembly, 3 meter
QSFP-4X10G-AOC5M= 40GQSFP to four 10G SFP+ direct attach breakout Active Optical cable assembly, 5 meter
QSFP-4X10G-AOC7M= 40GQSFP to four 10G SFP+ direct attach breakout Active Optical cable assembly, 7 meter
QSFP-4X10G-AOC10M= 40GQSFP to four 10G SFP+ direct attach breakout Active Optical cable assembly, 10 meter
QSFP-H40G-AOC1M= 40G QSFP direct-attach Active Optical cable, 1 meter
QSFP-H40G-AOC2M= 40G QSFP direct-attach Active Optical cable, 2 meter
QSFP-H40G-AOC3M= 40G QSFP direct-attach Active Optical cable, 3 meter
QSFP-H40G-AOC5M= 40G QSFP direct-attach Active Optical cable, 5 meter
QSFP-H40G-AOC7M= 40G QSFP direct-attach Active Optical cable, 7 meter
QSFP-H40G-AOC10M= 40G QSFP direct-attach Active Optical cable, 10 meter
QSFP-H40G-AOC15M= 40G QSFP direct-attach Active Optical cable, 15 meter
QSFP-H40G-AOC20M= 40G QSFP direct-attach Active Optical cable, 20 meter
CVR-QSFP-SFP10G= Cisco QSFP to SFP/SFP+ Adapter (QSA) module