Refurbished IBM Power Systems / pSeries features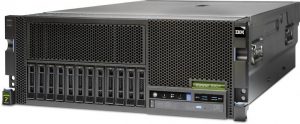 Essential Technologies is your essential source for new, used, refurbished, and recertified IBM Power Systems features. Whether it's a complete system, upgrades, memory, processors, components, or parts, you can count on Essential to provide quality equipment that meets your IT objectives - and exceeds your expectations - every time.
All products are 100% original, tested, and guaranteed for your IBM on-site maintenance agreements. Whether you have a specific part in mind, or if you need alternatives, we have the solution that's right for you.
We will also buy back your new or pre-owned IT equipment.
Refurbished IBM Features for Power Systems
Adapters
Fibre Channel
Ethernet
> (#1954) - 4-Port 10/100/1000 Base-TX PCI-X Adapter
> (#1978) - IBM Gigabit Ethernet-SX PCI-X Adapter
> (#1979) - IBM 10/100/1000 Base-TX Ethernet PCI-X Adapter
> (#1981) - 10 Gigabit Ethernet -SR PCI-X Adapter
> (#1982) - IBM 10 Gigabit Ethernet-LR PCI-X Adapter
> (#1983) - IBM 2-Port 10/100/1000 Base-TX Ethernet PCI-X Adapter
> (#1984) - IBM 2-Port Gigabit Ethernet-SX PCI-X Adapter
> (#1985) - 10/100 Mbps Ethernet PCI Adapter II
> (#1986) - 1 Gigabit iSCSI TOE PCI-X on Copper Media Adapter
> (#1987) - 1 Gigabit iSCSI TOE PCI-X on Optical Media Adapter
> (#4961) - IBM Universal 4-Port 10/100 Ethernet Adapter
> (#4962) - 10/100 Mbps Ethernet PCI Adapter II
> (#5700) - IBM Gigabit Ethernet-SX PCI-X Adapter
> (#5701) - IBM 10/100/1000 Base-TX Ethernet PCI-X Adapter
> (#5706) - IBM 2-Port 10/100/1000 Base-TX Ethernet PCI-X Adapter
> (#5707) - IBM 2-Port Gigabit Ethernet-SX PCI-X Adapter
> (#5708) - 10Gb FCoE PCIe Dual Port Adapter
> (#5713) - 1 Gigabit iSCSI TOE PCI-X on Copper Media Adapter
> (#5714) - 1 Gigabit iSCSI TOE PCI-X on Optical Media Adapter
> (#5717) - 4-Port 10/100/1000 Base-TX PCI Express Adapter
> (#5718) - 10 Gigabit Ethernet PCI-X Adapter
> (#5719) - IBM 10 Gigabit Ethernet-LR PCI-X Adapter
> (#5721) - 10 Gb Ethernet-SR PCI-X 2.0 DDR Adapter
> (#5722) - 10 Gb Ethernet-LR PCI-X 2.0 DDR Adapter
> (#5732) - 10 Gigabit Ethernet-CX4 PCI Express Adapter
> (#5740) - 4-Port 10/100/1000 Base-TX PCI-X Adapter
5769 - 10 Gigabit Ethernet-SR PCI Express Adapter
> (#5772) - 10 Gigabit Ethernet-LR PCI Express Adapter
SCSI / RAID
> (#1974) - PCI-X Dual Channel Ultra320 SCSI Adapter
> (#1975) - PCI-X Dual Channel Ultra320 SCSI RAID Adapter
> (#1976) - Dual Channel SCSI RAID Enablement Card
> (#2498) - PCI 4-Channel Ultra3 SCSI RAID Adapter
> (#5726) - Dual Channel SCSI RAID Enablement Card
> (#5703) - PCI-X Dual Channel Ultra320 SCSI RAID Adapter
> (#5709) - Dual Channel SCSI RAID Enablement Card
> (#5712) - PCI-X Dual Channel Ultra320 SCSI Adapter
> (#5727) - Dual Channel SCSI RAID Enablement Card
> (#5728) - Dual Channel SCSI RAID Enablement Card
> (#5736) - PCI-X DDR 2.0 Dual Channel Ultra320 SCSI Adapter
> (#5737) - PCI-X DDR Dual Channel Ultra320 SCSI RAID Adapter
> (#5902) - PCI-X DDR Dual - x4 3Gb SAS RAID Adapter
> (#5912) - PCI-X DDR Dual - x4 SAS Adapter
> (#6203) - PCI Dual Channel Ultra3 SCSI Adapter
> (#6204) - PCI Universal Differential Ultra SCSI Adapter
Miscellaneous
> (#2943) - 8-Port Asynchronous Adapter EIA-232/RS-422, PCI bus
> (#2944) - 128-Port Asynchronous Controller, PCI bus
> (#2848) - POWER GXT135P Graphics Accelerator
> (#2849) - POWER GXT135P Graphics Accelerator with Digital Support
> (#6230) - Advanced SerialRAID Plus Adapter
> (#6231) - 128 MByte DRAM Option Card
> (#6235) - 32 MByte Fast-Write Cache Option Card